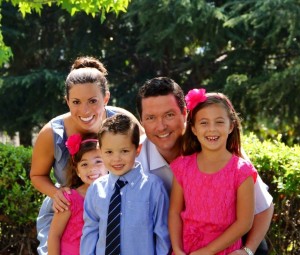 We would highly recommend Brent Humpherys from Humpherys Homes & Estates for anyone who is looking to sell or purchase a home. Brent has been an amazing Realtor to work with. Our experience selling and buying with him has been one of "fate."
We met Brent a few years back from a referral, when we were looking to sell our home. We were clearly underwater at the time and were looking for options to sell. Brent was patient with us, and we spoke, met, or emailed over a two year period until the market was back up and were able to list our house. When it was time to list our home, he met with us and walked us through the process so that we were involved and understood every step. Our house was listed for less than 24 hours, when it sold for more than full asking price. It was "fate." The buyer of the home, was the original owner (the little girl who grew up in the house). She just happened to be purchasing a home in the area when she saw ours listed on Trulia and had to have it. The transaction became a difficult one, due to our buyer's agent being inexperienced. Brent made sure to always have our best interest and worked hard to have the house close and to eliminate any unnecessary problems. He is an energetic and knowledgeable agent who does a great job making his clients feel that they are his only ones, when indeed he is a very busy man with lots of clients.
When it came time to start looking for houses, Brent was always available to show us listings. His humor and wit is contagious, and the entire process became an enjoyable one instead of a stressful one. After looking for over a month in a competitive market, we finally found our dream home. The only problem was there were multiple offers put in and a bidding war started. Brent was very strategic and creative in helping us become a front runner. He worked hard and was in constant contact with the seller's agent and with us over the stressful two day wait. We ended up not getting the home, however he was able to deliver and get us in a back up offer position. For the few weeks following, we became discouraged and disappointed, however, Brent became like a therapist. He was positive and kept us feeling hopeful that the market would soon improve. Then, one day we got an amazing phone call from Brent. It was "fate" again! The buyers backed out and we ended up going into escrow on our dream home. I think Brent was just as excited as my families when we got the great news.
Brent is a dedicated, ambitious, and extremely knowledgeable agent. He becomes a friend in the process and is enjoyable to work with. I couldn't imagine getting through the process without him as our realtor. We would highly recommend him and would definitely use him again if we decide to sell or purchase.
-Rachel and John Faulkner